www.thomaslarson.com Review:
Thomas Larson
- Journalist, critic, and memoirist, Thomas Larson is the author of three books: The Sanctuary of Illness, January 2014 from Hudson Whitman, The Saddest Music Ever Written and The Memoir and the Memoirist. He is a staff writer for the San Diego Reader, and he teaches in the MFA Program in Creative Nonfiction at Ashland University, Ashland, Ohio. His essay-series, "The Social Author," is running at Guernica. His website is www.thomaslarson.com.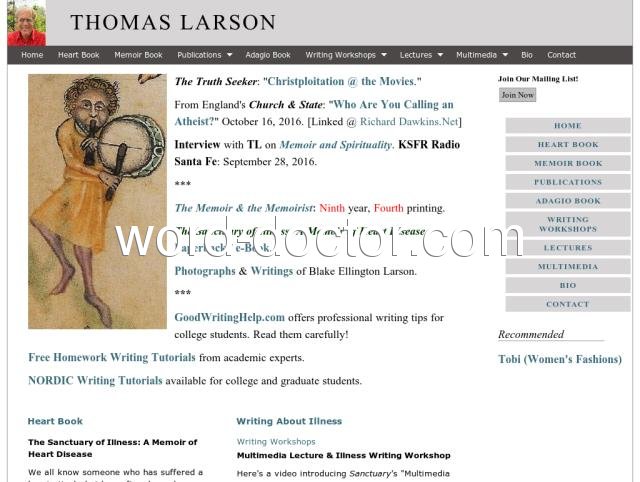 ---
Country: 199.116.78.160, North America, US
City: -85.7289 Michigan, United States
William Gartin - Have used this for years

I've used Sayman Salve when bandaging a cut for years. It helps keep the wound from drying out so it doesn't crack, soothes some of the pain and helps protect it from infection. It doesn't take a lot, just a dab on the wound before applying the bandage. Mom always used it and my own 20+ year old glass 2oz jar still has a usable amount in it.
Cindy C - Worth the price!

This is the only toner I've ever used that not only provides a terrific lift any time of day, but actually reduces acne. The whole Suki line is terrific, and cruelty-free. I switched from Origins, which I thought was the best. I will cut back on groceries before I stop using Suki products.
lisa1918 - Lessen the pain

Great product. I have many tattoos and have used this the last couple sessions. You must put a generous amount over the area, put plastic wrap over the area, and let it sit for about 45 minutes for full effect. It will NOT take away the pain, but lessen it and make it more tolerable. works better on fatty tissue areas I have found... you will feel a burning effect for about 15 minutes replaced by a cold feeling and then numb. My artist will place more on during breaks and let it sit with the plastic wrap on for about 15 minutes during long sessions.
sdecesare - 5 version (the age of hard disks) and this is by far the worst one ever

There are so many defects and so many issues with this version it is NOT worth buying. I have been using FINALE since the 3.5 version (the age of hard disks) and this is by far the worst one ever. Takes them forever to update issues and when they do update, they mess up something totally. They use their customers as guinea pigs to test out their product (defects and all) so that the customer can find the problems and then hopefully fix them. Bad business practices.